Dow Strongarm for Soybean Weeds: The first and foremost issue that a farmer faces in the cultivation is from weeds. They attack all types of crops. Soybean is no exception to them. In India, Soybean is one of the commercial crops. Hence with no proper care, the yield might get affected. Weeds are one of the reasons for yield loss. Since manual labor is becoming difficult, Soybean farmers have to use agro chemical herbicides. One such herbicide is Strongarm from Corteva. Today we are going to give you the details like technical name, recommended dosage per liter, and other details of Strongarm Herbicide.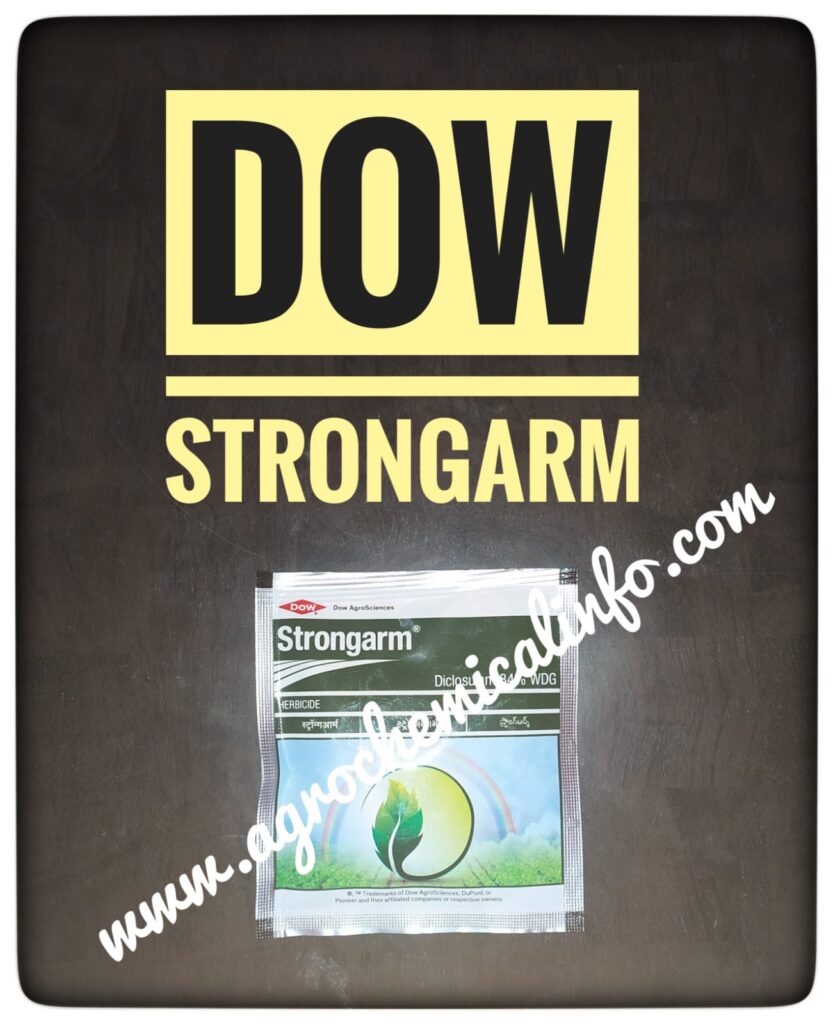 Dow Strongarm for Soybean Weeds Control:
Chemical Composition: Corteva is known for its unique and new chemical formulations. Strongarm is no exception. The technical name of Dow Strongarm is Diclosulam. While the percentage of the active ingredient is 84. Coming to the formulation, it comes in Water Dispersible Granules or WDG.
Recommended Dose: If you are using a herbicide, you should know the recommended dosage. Otherwise, you will not get the results. As per the company, the recommended dosage of Dow Strongarm is 12gm per acre. While per hectare, it is 30gms.
Target Crops: The one and only crop that you can use Dow Strongarm is Soybean.
Target Weeds: Dow Strongarm can control almost all types of weeds in a soybean field. It can control broad leaf weeds, sedges, and also grassy weeds.
Mode of Action: Dow Strongarm is a systemic herbicide. It enters the weed plant body and intervenes the enzyme formation. Thus by killing the weeds.
Time of Application: Dow Strongarm is a pre-emergent herbicide. You have to use it within 3 days or 72 hours of sowing.
Method of Application: Spraying is the best method of application of Dow Strongarm in Soybean.
Packing Available: 12gm
Toxicity Label: Strongarm is a Green label insecticide, as it is slightly toxic in nature.
Antidote: There is no specific antidote available for this Dow Strongarm. Hence if inhaled or ingested, treat symptomatically.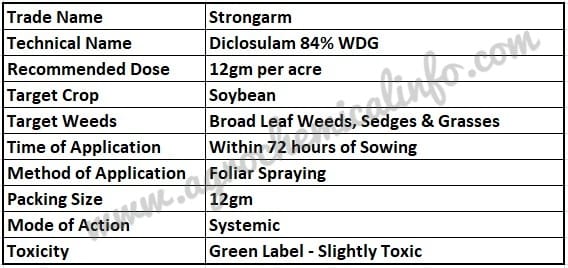 Benefits of Strogarm:
It a Broad-spectrum Herbicide
Gives longer duration results from weeds
Quick and uniformly dissolves
It is also cost-effective as the price of Dow Strongarm is affordable
Precautions:
One has to use protective gear while using this agro chemical.
One should not eat, drink, chew and smoke while using this insecticide.
Also, keep this product away from foodstuff and animal feed.
Do avoid direct contact with the mouth, eyes, and skin.
Recommended Dose of Strongarm for Soybean Weeds:
| | | | | |
| --- | --- | --- | --- | --- |
| S. No. | Crop | Dosage | Type of Weeds | Time of Application |
| 1. | Strongarm | 12gm/acre | Broad Leaf (Controls) | Within 72 hours of Sowing |
| | | 12gm/acre | Hedges (Controls) | Within 72 hours of Sowing |
| | | 12gm/acre | Grasses (Suppresses) | Within 72 hours of Sowing |
Frequently Asked Questions (FAQs) about Strogarm Technical:
What are Dow Strongarm Uses?
Controls weeds in Soybean
What is Dow Strongarm Price in India?
Around 650 rupees per acre
What is Dow Strongarm Herbicide Dose per acre?
This is all about the Dow Strongarm for weeds in Soybean fields. While we hope you got the information that you are searching for the agro chemical Strongarm Herbicide of Dow.