UPL Lancer Gold for Sucking Pests: Sucking Pests are a major trouble for cotton farmers. Leave cotton farmers, they pose problems for any farmer. The sucking pests include aphids, jassids, thrips, whitefly, etc. They suck away the cell sap from the crop. This will disrupt the flow of nutrients and water to the plant parts. And in turn, the plant parts look to wither. Because of this, the yield gets affected. Hence cotton farmers have to shoo away the sucking pests. To help the farmers, UPL has come up with an insecticide, Lancer Gold. Today we are going to let you know the technical name, recommended dosage per liter of UPL Lancer Gold. Hence have a look at the below section.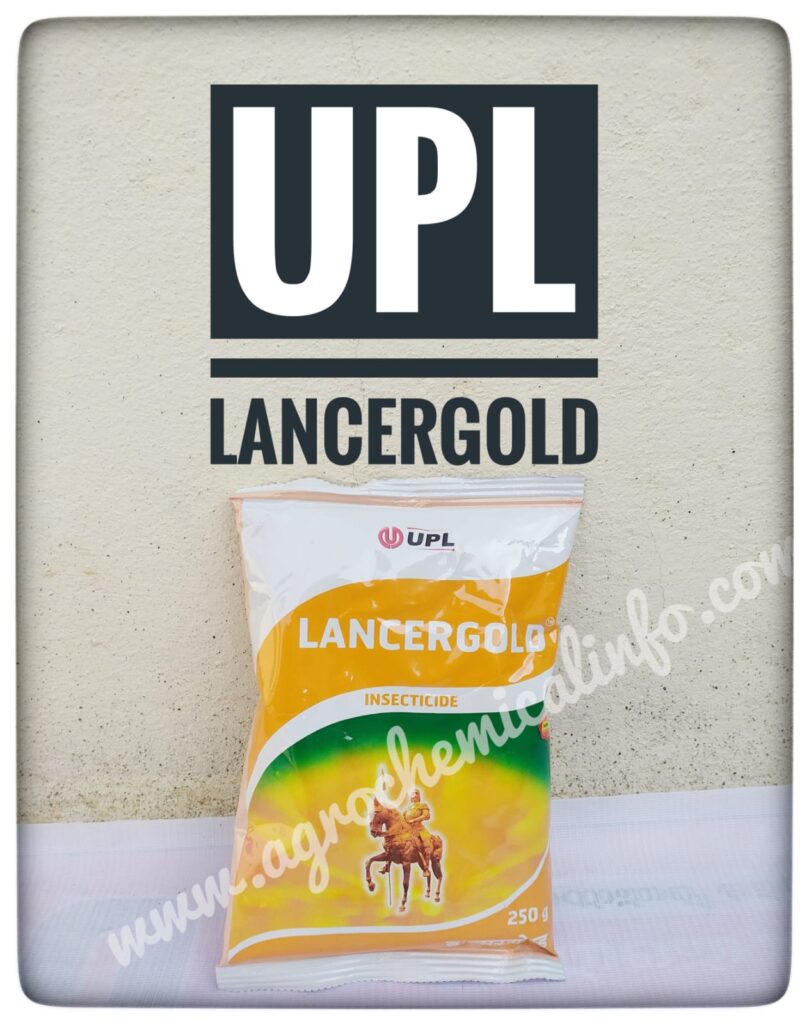 UPL Lancer Gold for Sucking Pests in Cotton:
Chemical Composition: Lancer Gold is a combination product. It has two molecules that give better control over the pests. The technicals of UPL Lancer Gold are Acephate 50% + Imidacloprid 1.8%. While the formulation of Lancer Gold is Soluble Powder or SP.
Recommended Dose: You should always remember that recommended dose of Lancer Gold is very important. To give better results, you should use the correct dose. Coming to the dose of Lancer Gold, it is 400gms per acre or 1kg per hectare. While it is 2ml per liter of water.
Target Crop: Cotton is the target crop of Lancer Gold. It gives the best result against the pests in cotton.
Target Pest: It can control sucking pests like aphids, jassids, thrips, and whitefly. It can also control bollworms of cotton.
Mode of Action: UPL Lancer Gold is systemic in nature. It enters the plant cell sap. When the sucking pests, sucks this sap, it kills the pests.
Time of Application: Timing is always the key. You should use this product soon after you see the early infestation of the sucking pests.
Method of Application: Foliar spray is the best method of application of Lancer Gold insecticide.
Compatibility: Lancer Gold is compatible with most fungicides. Even though, you have to contact the UPL employees to know more.
Available Packing: 100gm, 250gm, 500gm, 1kg
Toxicity Label: Lancer Gold is a Yellow Label Insecticide that is highly toxic.
Antidote: There is no specific antidote available for this UPL Lancer Gold technical. If inhaled or ingested, treat symptomatically.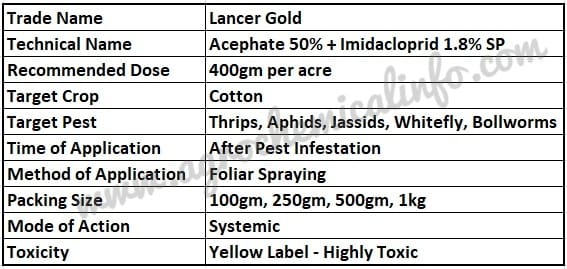 Benefits of Lancer Gold:
Broad spectrum systemic insecticide
It can kill multiple insects
Also safe to applicator
Cost-effective as the price of UPL Lancer Gold is affordable
Precautions:
One has to use protective gear while using this agro chemical.
One should not eat, drink, chew and smoke while using this insecticide.
Also, keep this product away from foodstuff and animal feed.
Do avoid direct contact with the mouth, eyes, and skin.
Recommended Dose of Lancer Gold for Pests:
| | | | | |
| --- | --- | --- | --- | --- |
| S. No. | Crop | Dosage | Pests | Time of Application |
| 1. | Cotton | 400gms/acre | Aphids | After the Pest Infestation |
| | | 400gms/acre | Jassids | After the Pest Infestation |
| | | 400gms/acre | Thrips | After the Pest Infestation |
| | | 400gms/acre | Whitefly | After the Pest Infestation |
| | | 400gms/acre | Bollworms | After the Pest Infestation |
Frequently Asked Questions (FAQs) about Lancer Gold Technical:
What is Lancer Gold UPL Uses?
Controls Sucking pests in Cotton
What is Lancer Gold Price in India?
Around 750 rupees per liter
What is the UPL Lancer Gold technical name?
Acephate 50% + Imidacloprid 1.8% SP
What is UPL Lancer Gold Dose?
This is all about the UPL Lancer Gold for Bollworms and thrips in Cotton. While we hope you got the information that you are searching for the agro chemical Lancer Gold Insecticide of UPL Company.