UPL Atabron for Cabbage & Cotton Pests: Pests in any crop are not desirable. They eat away the yield causing yield loss. This always results in the loss of income for the farmers. Hence farmers have to control them at the earliest. DBM or Diamond Back Moth in Cabbage, Helicoverpa in cotton are major insects. To control them farmers need the best agro chemical insecticides. To help the farmers, UPL has come up with a new product Atabron. Today, we are going to let you know the technical name, recommended dosage per liter, and other details of the Atabron insecticide. Hence have a look at the below section.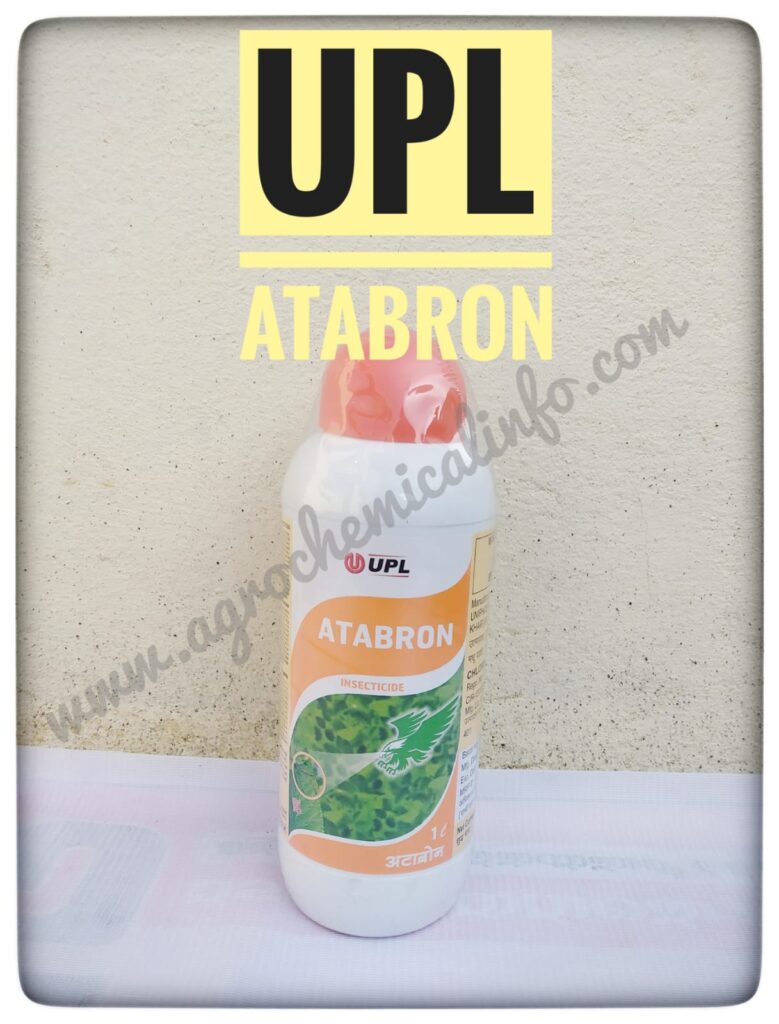 UPL Atabron for Cabbage & Cotton Pests:
Chemical Composition: UPL has come up with a new chemical formulation for this product. The technical name of Atabron is Chlorfluazuron. While the percentage is 5.4. Coming to the formulation it is EC or Emulsifiable Concentrate.
Recommended Dose: The recommended dose is very important to control an insect effectively. Hence you should know the dose before the application. UPL is recommending 600ml per acre in Cabbage and 600-800ml per acre in Cotton.
Target Crops: If we go by the company, UPL is suggesting that we can use it in Cotton. You can also use in Cabbage crops, both of them being commercial crops.
Target Pest: In Cabbage, Atabron kills Diamond Back Moth. While in cotton atabron helps in controlling Helicoverpa and Spodoptera insects.
Mode of Action: Atabron is a contact and stomach insecticide. It is not a systemic insecticide.
Time of Application: You have to use this Atabron insecticide after the pest infestation. Hence do not delay the application.
Method of Application: Foliar spraying is the best method of application of UPL Atabron insecticide. Hence do not try other methods.
Packing Available: 100ml, 250ml, 500ml, 1lt, 5lt
Toxicity Label: Atabron is a green label product as it is green toxic.
Antidote: There is no specific antidote available for this UPL Atabron. Hence if inhaled or ingested, treat symptomatically.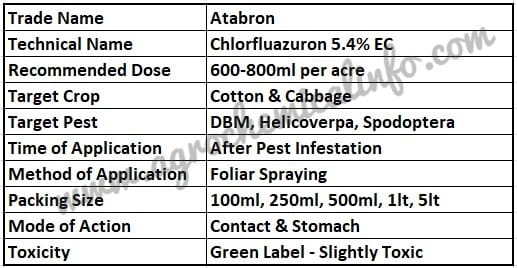 Benefits of Atabron:
Excellent phytotonic effect
Long duration results
Also Arrests Lepidoptera pests molting
Furthermore, it is cost-effective as the price of UPL Atabron is affordable
Precautions:
One has to use protective gear while using this agro chemical.
One should not eat, drink, chew and smoke while using this insecticide.
Also, keep this product away from foodstuff and animal feed.
Do avoid direct contact with the mouth, eyes, and skin.
Recommended Dose of Atabron for Cabbage & Cotton:
| | | | |
| --- | --- | --- | --- |
| S No: | Crops | Target Pest | Dose |
| 1 | Cabbage | Diamond black moth | 600 ml per acre |
| 2 | Cotton | Helicoverpa, Spodoptera | 600-800 ml per acre |
Frequently Asked Questions (FAQs) about Atabron Technical:
What is UPL Atabron Uses?
Controls Pests in Cabbage & Cotton
What is Atabron Price in India?
Around 1200 rupees per liter
What is Atabron Insecticide Technical Name?
This is all about the UPL Atabron insecticide for DBM and Helicoverpa. While we hope you got the information that you are searching for the agro chemical Atabron insecticide of UPL Company. Furthermore, if you want more information on pesticides, you can check our website.