UPL Gunther for Pest Management: Insects and Pests are common in any agricultural crop. They cause a huge menace to the farmers. Hence they result in additional costs. And they also cause income loss. Since they cause this type of financial problem, they need to have better control over them. Hence they need to use a good agro chemical insecticide. One among the best is from the UPL Company. They call it Gunther. It is helpful for controlling multiple pests in multiple crops. Today we are going to know about the technical name, recommended dosage per liter of water, and other details. Hence have a look at the below section.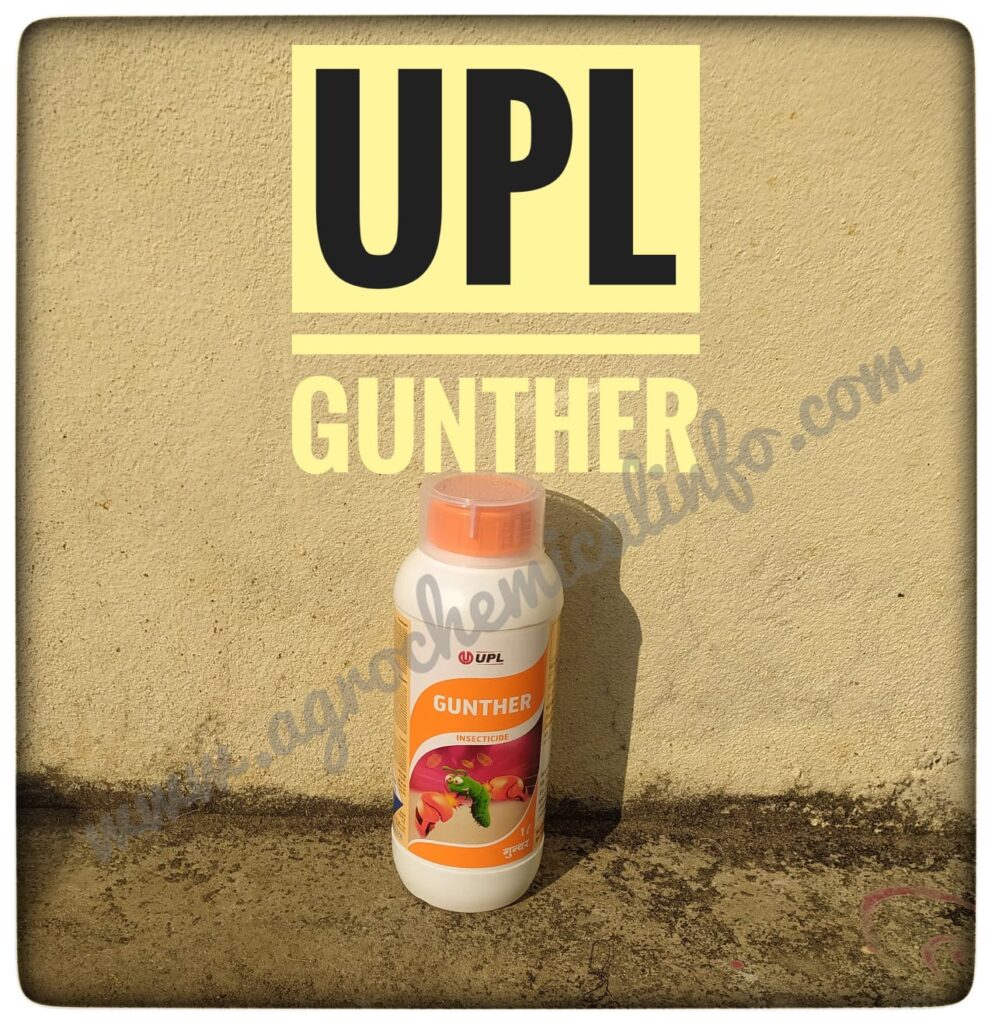 UPL Gunther for Pest Management in Paddy & Chilli:
Chemical Composition: Gunther is a combination product. That means it has two unique molecules to have better control over the insects. The technical name of Gunther is Novaluron and Emamectin Benzoate. While their percentages are 5.25 and 0.9 respectively. Coming to the formulation, Gunther comes in Suspension Concentration or SC.
Recommended Dose: Recommended dose of Gunther insecticide varies from crop to crop. Hence we have given that information in the below table. Check the table to know furthermore details.
Target Crops: Because of its dual formulations, one can use it in multiple crops like paddy, red gram. They can also use in vegetables like chili and cabbage.
Target Pest: Gunther can control a wide range of insects. It controls DBM, Stem Borer, Pod Borer, and also Fruit Borer.
Mode of Action: Though it has two molecules, both of them are in contact in nature. Gunther does not possess any systemic properties.
Time of Application: Since it is a contact insecticide, you can apply this Gunther after the pest infestation.
Method of Application: Foliar Spray is the only and best method of application of UPL Gunther.
Packing Available: 100ml, 250ml, 500ml, 1lt
Toxicity Label: Gunther is a Blue label product as it is moderately toxic.
Antidote: There is no specific antidote available for this UPL Gunther. Hence if inhaled or ingested, treat symptomatically.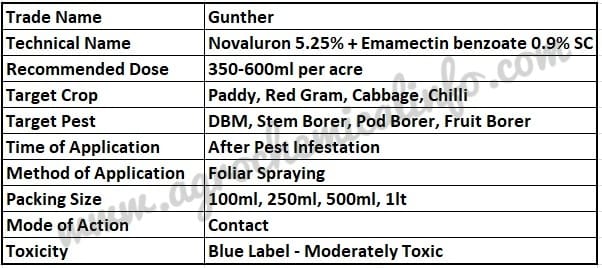 Benefits of Gunther:
Broad spectrum contact insecticide
Best for DBM & Fruit Borer
Safe to applicator
Also cost-effective as the price of UPL Gunther is affordable
Precautions:
One has to use protective gear while using this agro chemical.
One should not eat, drink, chew and smoke while using this insecticide.
Keep this product away from foodstuff and animal feed.
Do avoid direct contact with the mouth, eyes, and skin.
Recommended Dose of Gunther for Pest Management:
| | | | | |
| --- | --- | --- | --- | --- |
| S. No. | Crop | Dosage | Insects | Time of Application |
| 1. | Paddy | 600ml/acre | Stem Borer | After the Pest Infestation |
| 2. | Red Gram | 350ml/acre | Pod Borer | After the Pest Infestation |
| 3. | Chilli | 350ml/acre | Fruit Borer | After the Pest Infestation |
| 4. | Cabbage | 350ml/acre | DBM | After the Pest Infestation |
Frequently Asked Questions (FAQs) about Gunther Technical:
What is UPL Gunther Insecticide Uses?
Controls DBM, Pod Borer, Fruit Borer
What is UPL Gunther Insecticide Price in India?
Around 1600 rupees per liter
What is the technical name of UPL Gunther Insecticide?
Novaluron 5.25% + Emamectin benzoate 0.9% SC
This is all about the UPL Gunther insecticide for Pod Borer in Red Gram, Fruit Borer in Chilli. While we hope you got the information that you are searching for the agro chemical Gunther insecticide of UPL.