UPL Shenzi Gr for Stem Borer: Stem Borer in Paddy and Shoot Borer in Sugarcane is trouble-causing pests. They cause severe yield loss in the infected field. A farmer has to control them from the early stages. Otherwise, he has to lose his yield. And this will lead to income loss. Hence the farmer should have multiple options to control them. One such option is using agro chemical pesticides and insecticides. To help in controlling these pests, UPL has come up with a novel insecticide called Shenzi Granules. Today we are going to let you know the technical name, recommended dosage per hectare, and other details of UPL Shenzi Gr insecticide.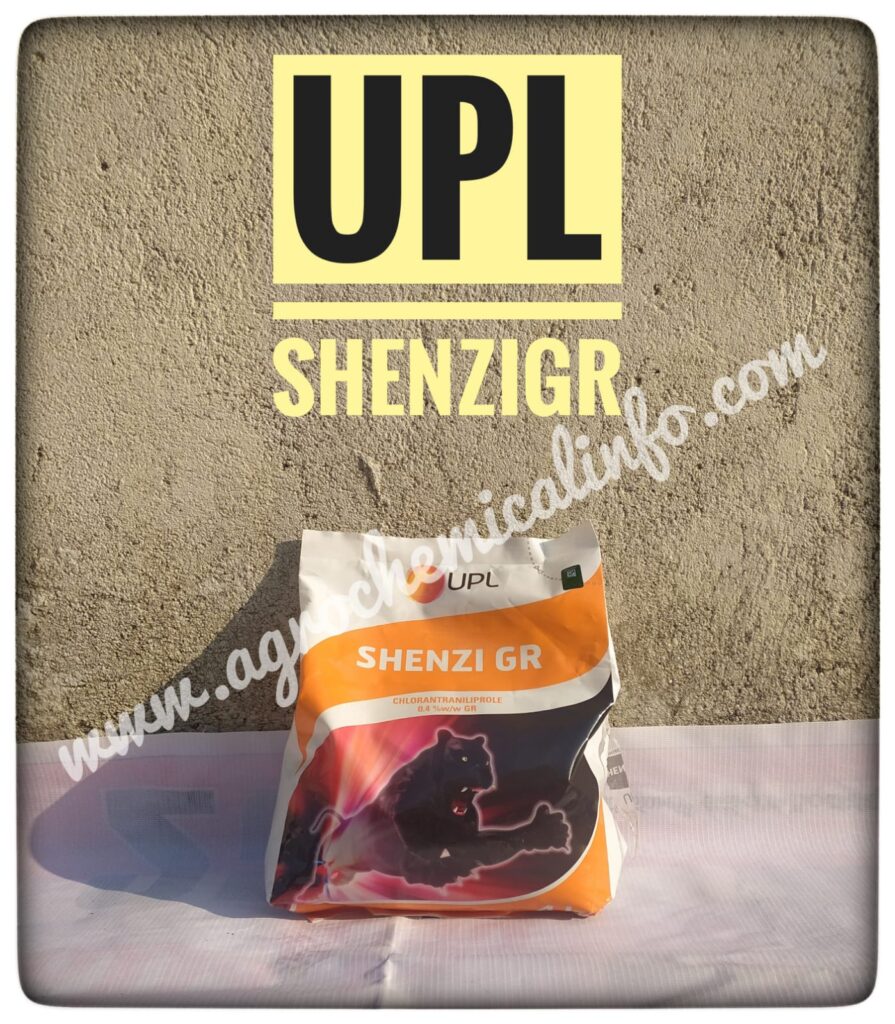 UPL Shenzi Gr for Stem Borer & Shoot Borer:
Chemical Composition: Shenzi Gr has a novel technical. The technical name of Shenzi Granules is Chlorantraniliprole. While the percentage is 0.4. Coming to the formulation it is Granules or Gr.
Recommended Dose: The recommended dose of Shenzi Gr differs in paddy and sugarcane. It is 4kg per acre in paddy and 7.5kg per acre respectively.
Target Crops: Shenzi Gr is helpful in multiple crops like Paddy and Sugarcane.
Target Pests: It controls Yellow Shoot Borer in Paddy. While in Sugarcane, it controls Early Shoot Borer & Top Borer.
Mode of Action: UPL Shenzi Gr is a systemic insecticide. It has no contact properties.
Time of Application: The time of application of Shenzi Gr differs in paddy and sugarcane. To know the accurate information, check the below table to know furthermore.
Method of Application: Broadcasting is the only method of application of UPL Shenzi Gr insecticide.
Packing Available: 4kg
Toxicity Label: Shenzi Gr insecticide is a Green label product as it is slightly toxic.
Antidote: There is no specific antidote available for this UPL Shenzi Gr. Hence if inhaled or ingested, treat symptomatically.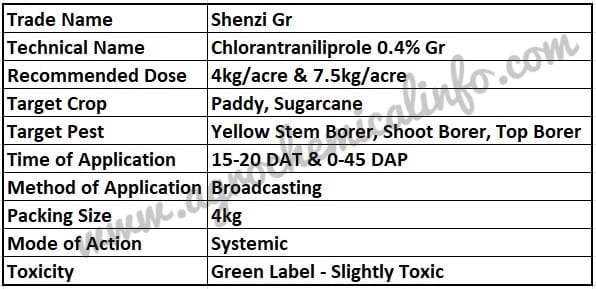 Benefits of Shenzi Gr:
Best for Paddy Stem Borer and Sugarcane Shoot Borer
Longer duration results
Easy to apply in field
Also cost-effective as the price of UPL Shenzi Gr is affordable
Precautions:
One has to use protective gear while using this agro chemical.
One should not eat, drink, chew and smoke while using this insecticide.
Keep this product away from foodstuff and animal feed.
Do avoid direct contact with the mouth, eyes, and skin.
Recommended Dose of UPL Shenzi Gr in Paddy & Sugarcane:
S. No.
Crop
Dosage
Pest
Time of Application
1.
Paddy
4kg/acre
Yellow Stem Borer
i) Transplanted Rice: 15-30 Days After Transplantation
ii) Direct Seeded Rice: 20-30 Days After Transplantation
2.
Sugarcane
7.5kg/acre
Early Shoot Borer, Top Borer
i) 0-45 Days After Planting for Shoot Borer
ii) 60-120 Days After Planting for Top borer
Frequently Asked Questions (FAQs) about Shenzi Gr Technical:
What are UPL Shenzi Gr Uses?
Controls Yellow Stem Borer in Paddy and Early Shoot Borer & Top Borer in Sugarcane
What is UPL Shenzi Gr Price in India?
Around 750 rupees per acre
What is the technical name of UPL Shenzi Granules?
Chlorantraniliprole 0.4% Gr
This is all about the UPL Shenzi Gr Insecticide for Sugarcane Shoot Borer & Top Borer. While we hope you got the information that you are searching for the agro chemical Shenzi Gr Insecticide of UPL.