UPL Pilatus for Increasing Yield: Each and every plant has to do undergo biotic and abiotic stress. There are a number of agro chemicals to control biotic stress. But if they are undergoing abiotic stress then you need a better solution. Otherwise, you will lose your yield. Hence farmers have to use bio-stimulants. The best among the business is from the UPL Company. They call it Pilatus. There are a number of uses of Pilatus. Today we are going to give you info about the technical name, recommended dosage per liter, and other details of pilatus bio-stimulant.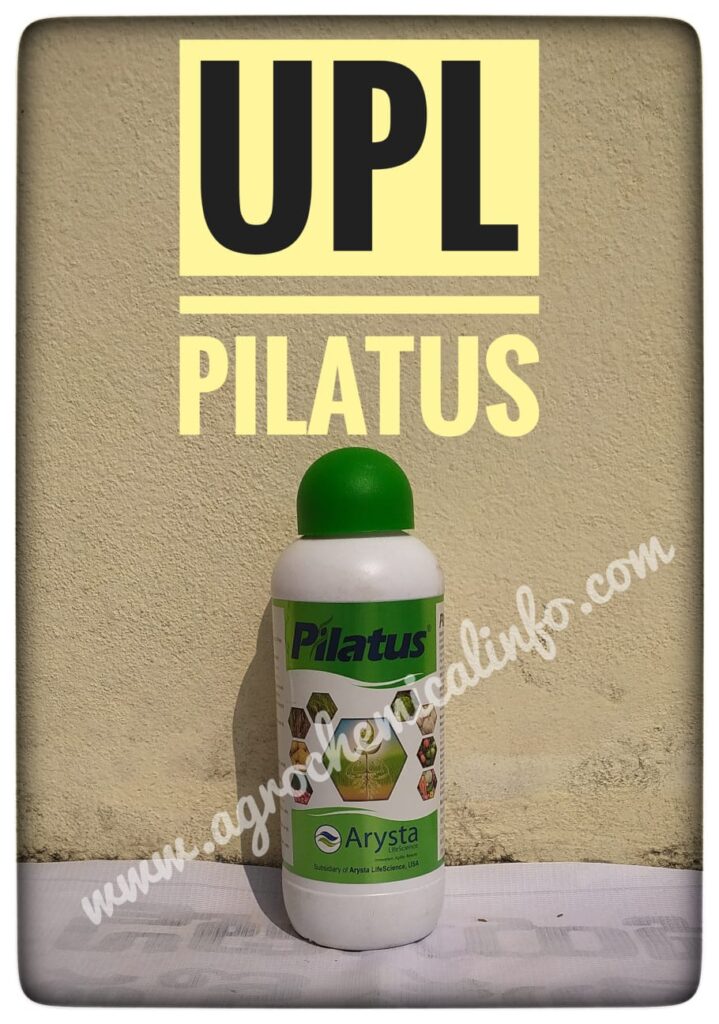 UPL Pilatus for Improving Yield in Multiple Crops:
Chemical Composition: UPL Pilatus consists of plant extract. The main composition of UPL Pilatus is Fulvic Acid, Amino Acids, Inositol.
Recommended Dose: To increase the yield, you have to use the appropriate dose for your field. In case of drenching, you have to use 500ml-1lt Pilatus per acre. While 500ml per acre is an ideal dose for foliar spray.
Target Crops: The best thing about the Pilatus bio-stimulant is its usage. You can use it in multiple crops like vegetables, fruit crops. You can also use it in field crops.
Target Function: Pilatus helps in tolerating the stress conditions. This helps in increasing the yield.
Mode of Action: You can also use drenching as a method of application for this product. Hence it can enter the plant body through roots and leaves.
Time of Application: You can use this Pilatus from seedling to vegetative growth.
Method of Application: There are two methods of application of Pilatus. The first one is Drenching. While the second one is Foliar Spray.
Packing Available: 100ml, 250ml, 500ml, 1lt
Toxicity Label: Since it doesn't have any agro chemicals, there is no toxicity for UPL Pilatus.
Antidote: There is no specific antidote available for this Pilatus bioproduct. Hence if inhaled or ingested, treat symptomatically.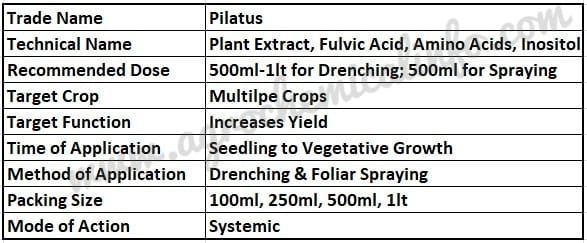 Benefits of Pilatus:
Improves plant root growth and health
Helps in increaseing nutrient uptake
It helps in tolerating abiotic stress
Also cost-effective as the price of UPL Pilatus is affordable
Precautions:
One has to use protective gear while using this agro chemical.
One should not eat, drink, chew and smoke while using this insecticide.
Keep this product away from foodstuff and animal feed.
Do avoid direct contact with the mouth, eyes, and skin.
Recommended Dose of UPL Pilatus for Good Yield:
| | | | | |
| --- | --- | --- | --- | --- |
| S. No. | Crops | Type | Dosage | Time of Application |
| 1. | Suitable for All Crops | Spraying | 500ml/acre | Seedling to vegetative |
| 2. | Suitable for All Crops | Drenching | 500ml-1lt/acre | Seedling to vegetative |
Frequently Asked Questions (FAQs) about Pilatus Technical:
What are Pilatus Uses in Agriculture?
Helps in Fruit Setting and Increasing Yield
What is Pilatus UPL Price in India?
Around 1100 rupees per liter
What is UPL Pilatus technical?
Plant Extract, Fulvic Acid, Amino Acids, Inositol
This is all about the UPL Pilatus for flowering and fruit set. While we hope you got the information that you are searching for the agro chemical Pilatus Bio-Solution of UPL.